Hello!  I'm Sara, from Much Love, Sara.  And, today, it's the MOST WONDERFUL TIME of the month - it's release day for Picket Fence Studios!  This month the stamps and stencils being released, are focused around the holidays. 
On release day, I like to share a quick peek of all of the new products in the release.  Then, I have a couple of cards to share with you, using some new stamps.  I'm also sharing a massive crafty "fail" today - because now I can look back on it and laugh.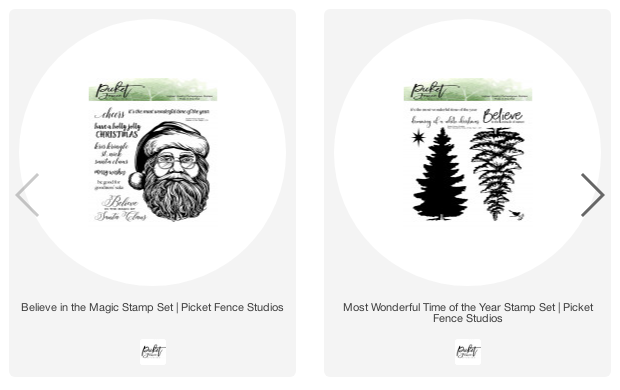 This first card I'm sharing today, is nothing like I planned. The changes to the original plan, were the result of a massive craft fail.  I began with stamping the Santa image from the Believe in the Magic Stamp Set in a light ink, for no-line coloring. Then, I took my time coloring it in with Prismacolor Pencils.
Here's where this card had a massive fail.  And I'm going to share it. 
After finishing my coloring, I set the image aside while I stamped the
Reindeer Games Stamp
, onto white card stock, with red ink.  
I lost control of the ink pad. 
It flew out of my hand, somersaulted through the air, and landed - PAD DOWN - onto my colored image. 
Now, if you've worked with red ink, you know it stains.  
Like, a LOT.  It's permanent on paper.  
There was no removing it, and trying to do so was simply going to smear it further.
I'm a slow colorer, so it had taken me a long time to get Santa the way I wanted, and in just a millisecond it was ruined.  I was devastated, and had to walk away from the craft room. 
After a while had passed, I was able to come back and complete this card - though with a little layout change.  I stamped the Believe in the magic sentiment in
Black Hybrid Ink
onto a piece of white card stock, then stamped the Be Good sentiment beneath it in the red ink - making certain to move EVERY finished element off my desk to a safe spot first!  I die cut the sentiment panel, and then laid the die onto a piece of Black card stock, and used a craft knife around the outside edge to create the black frame that fit perfectly.  Then I layered the pieces together onto the Reindeer background, with Santa peeking up from the bottom of the card, and nearly all of the red trimmed off! 
I matted the card front with some matching red card stock, and attached it to a white card base.  A few Gin and Tonic Sequins added a little sparkle to finish off the card. 
For my second card, I used the Santa image from the Believe in the Magic Stamp Set again.  This time, I stamped Santa in gray ink onto pale gray card stock.  I added some light shading with Prismacolor Pencils, mostly focusing on adding a little pink to his cheeks, a red tint to the hat, and white to his hair and the trim on the hat. 
I set that panel aside, while I stamped and white heat embossed the sentiment onto aqua card stock, that I cut a fish tail banner on one end.  I adhered that to the card front with foam tape, on top of a strip of Black Sparkle Tape that was cut at an angle.  
Rather than matting the card front with straight edges, I off-set it onto a mat of pink card stock.  The card front was attached to a white card base, and Gin and Tonic Sequins were added to complete the card. 
I really liked how both cards finished up, even with the crafty fail on the first card.  And now I've two cards for my Christmas card stash.  Just 163 days left until Christmas - Ahh!  
Be sure to check out all of the items in today's release - there's some fun new products!
Much Love,